INNOVATION MEETS EXCELLENCE
INNOVATION MEETS EXCELLENCE
THE NEW GS 65 PERFORMANCE
---
In full respect of Cantiere del Pardo's spirit and design, this version of the Grand Soleil 65 represents the perfect synthesis of performance, style and innovation. The extensive manufacturing expertise of the shipyard and innovative solutions increasingly attentive towards sustainability and energy efficiency are the hallmarks of this new model.

Once again, the concept development of Grand Soleil 65 was curated and finessed under the expert lead of Franco Corazza: entrepreneur, longtime racer and established champion with 12 Italian titles, 2 European titles and 1 world title under his belt.

The hull is made by infusing epoxy-based vacuum vinylester resin into biaxial fiberglass and unidirectional carbon fabrics for a light, rigid and robust structure. The longitudinal and transverse structures and the load-bearing areas of the hull are laminated in fiberglass and stiffened with unidirectional carbon reinforcements. All the construction processes and onboard systems are tested and certified according to the most stringent quality controls.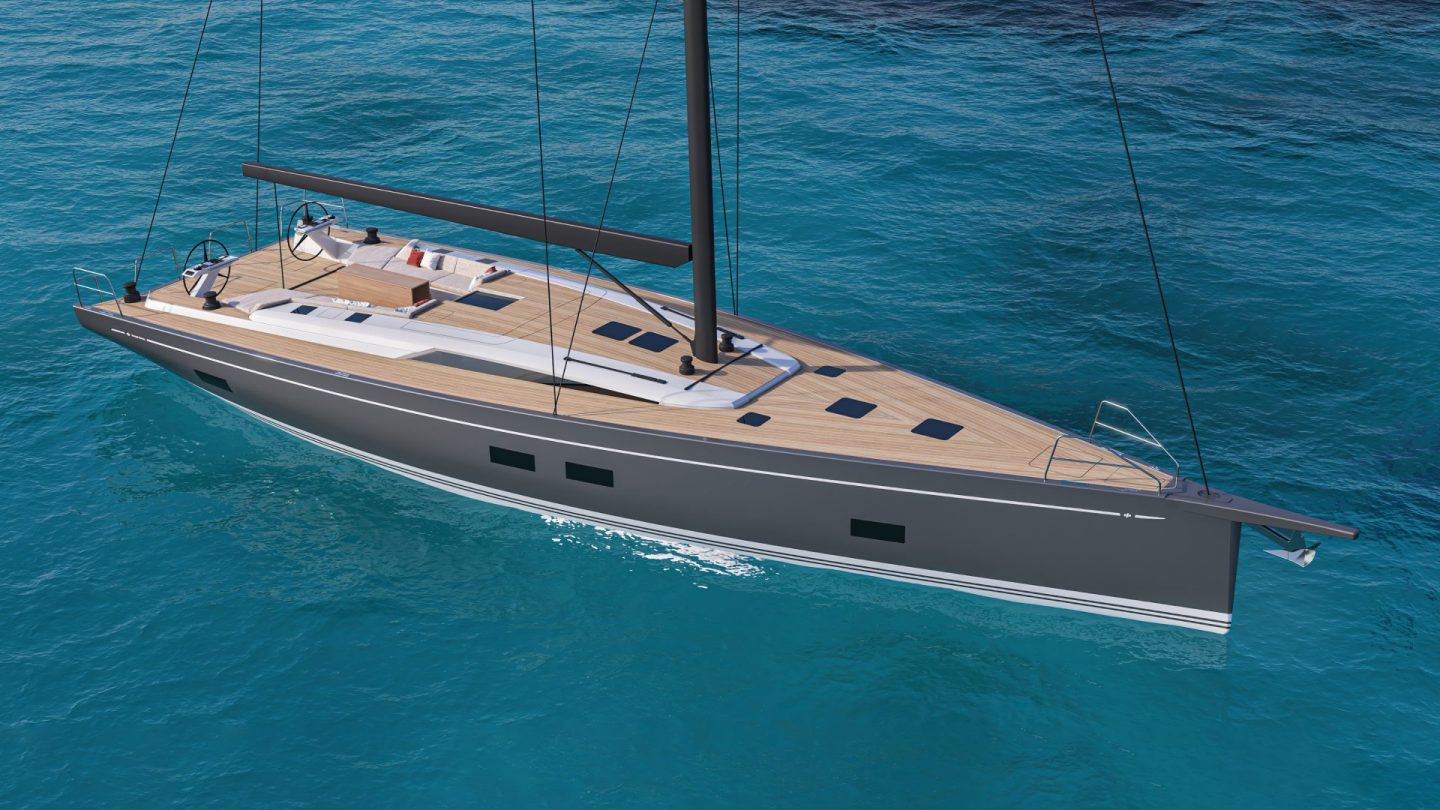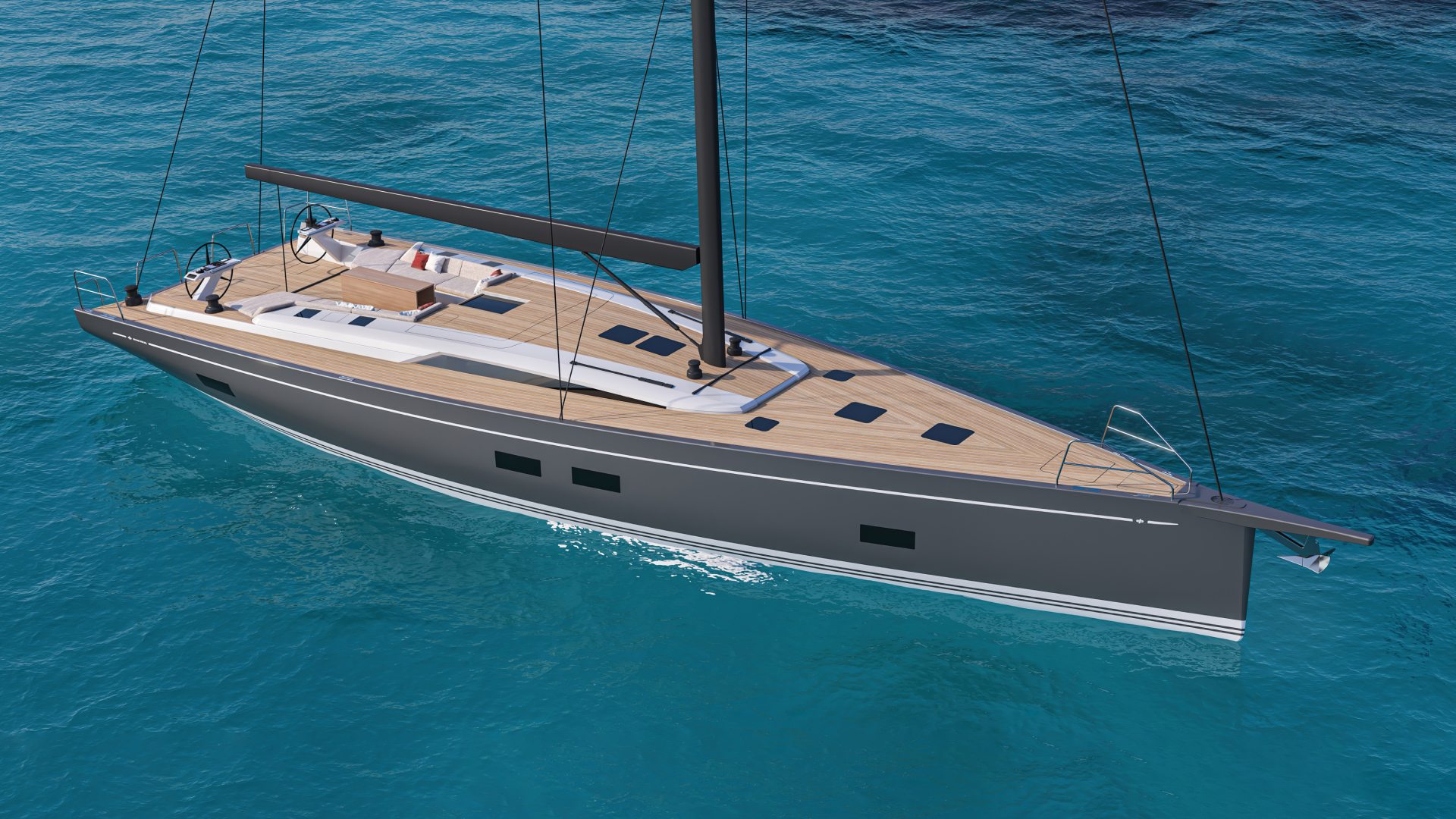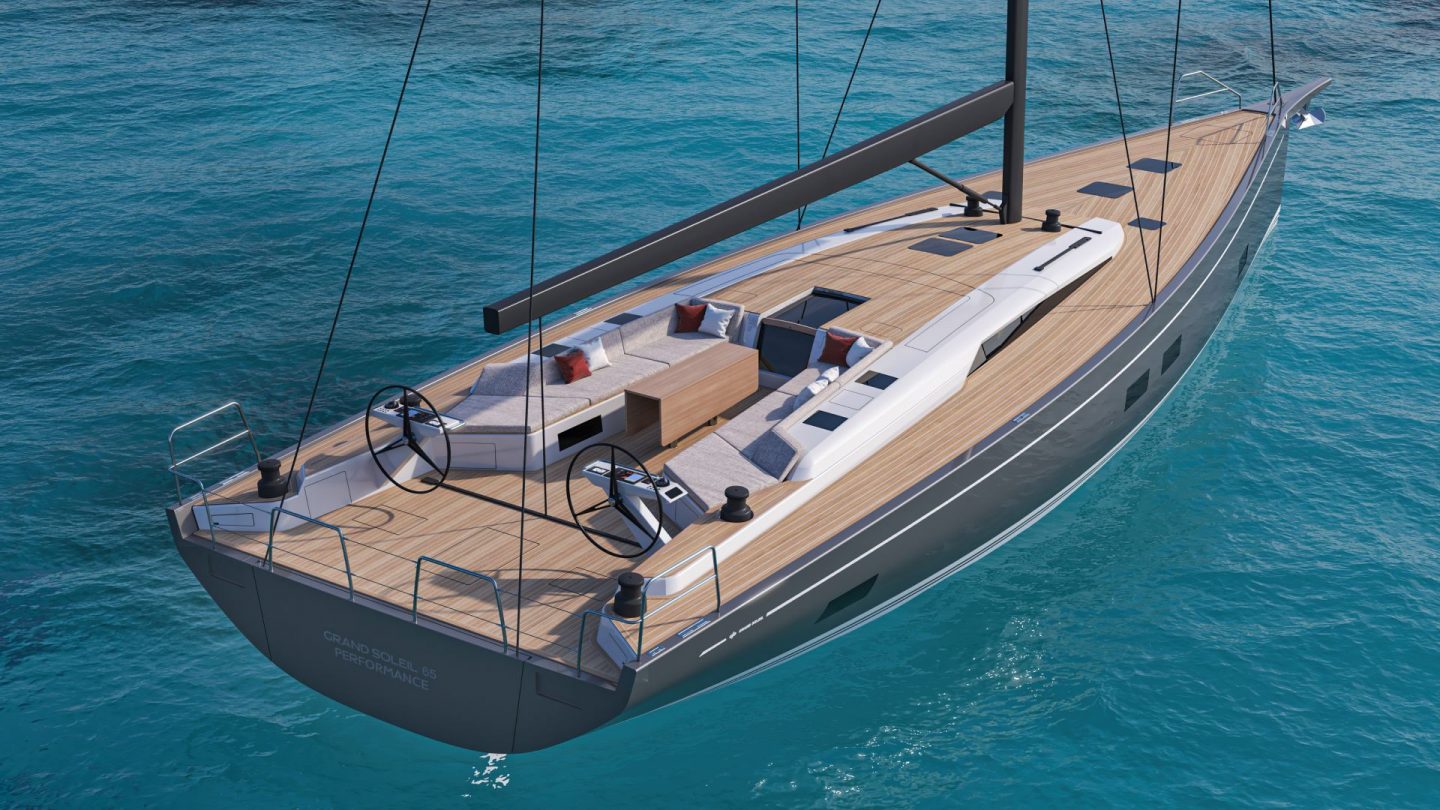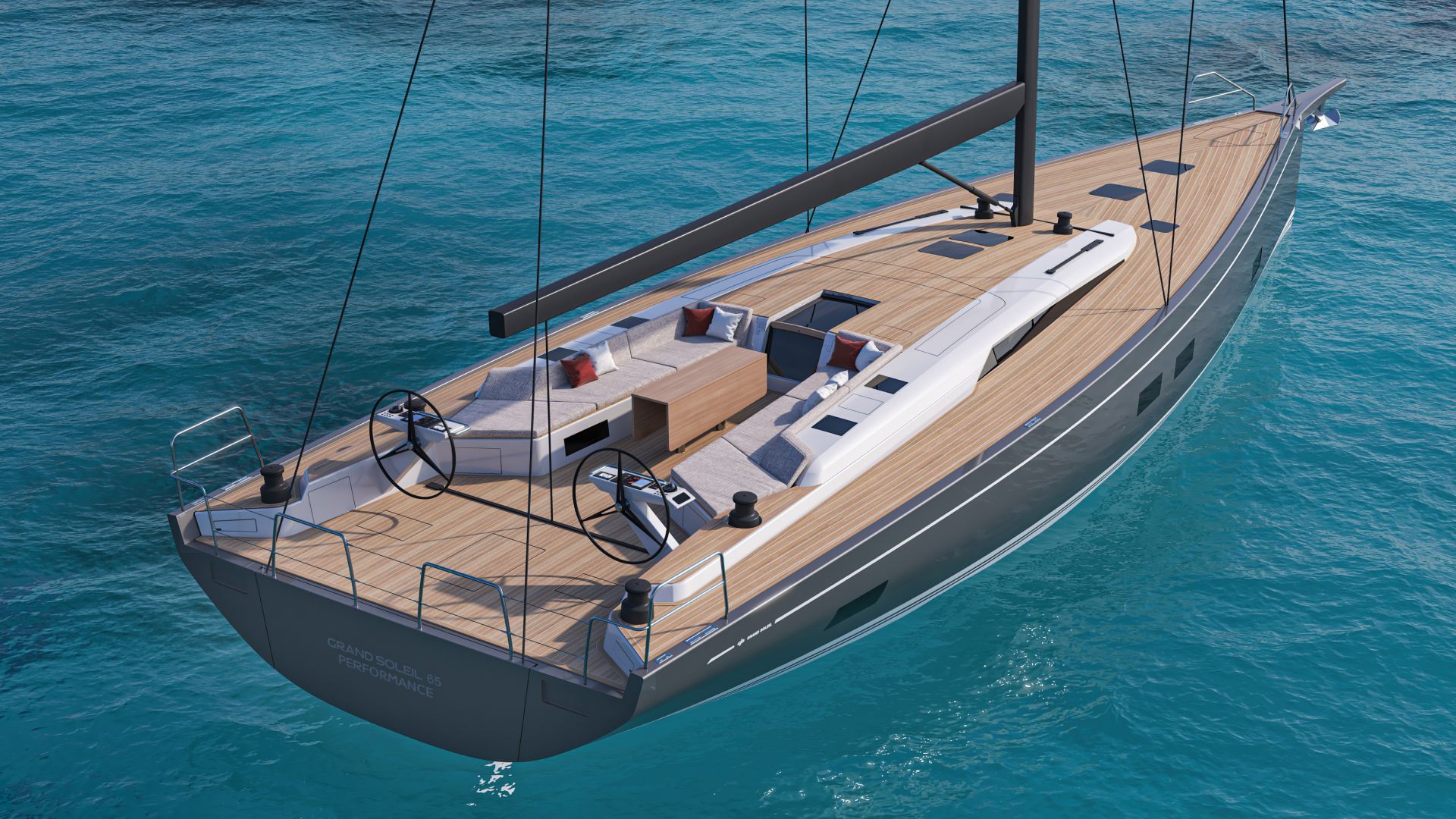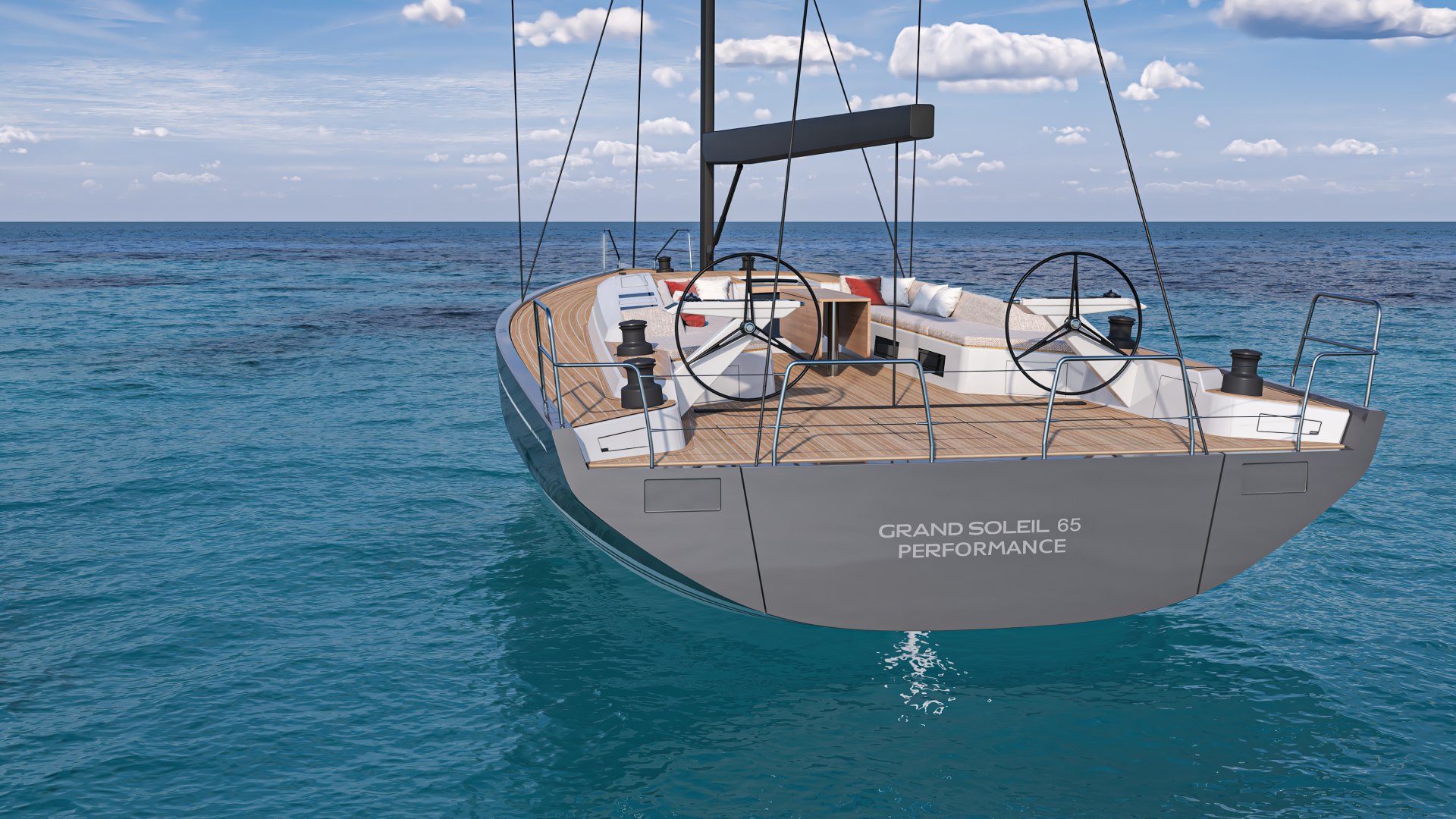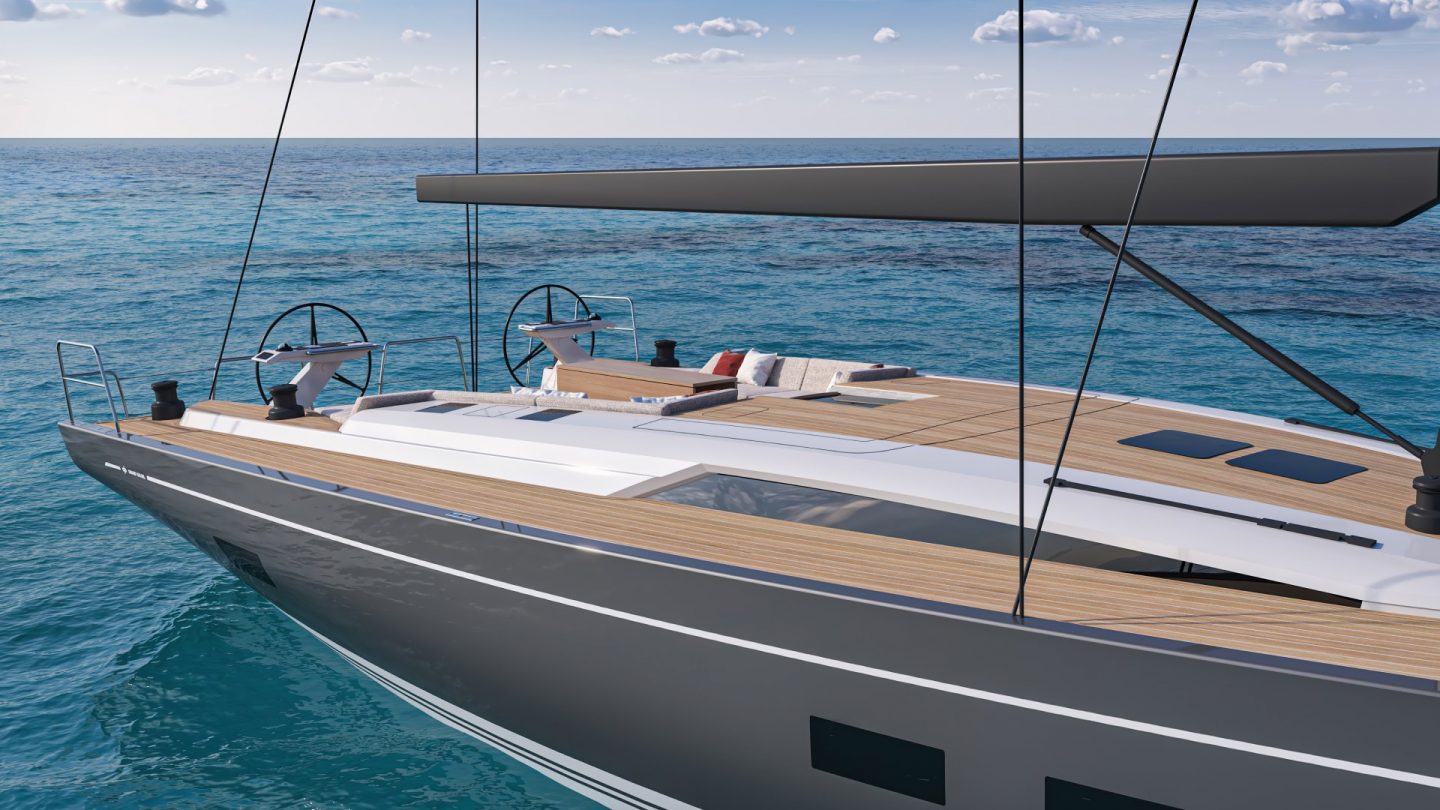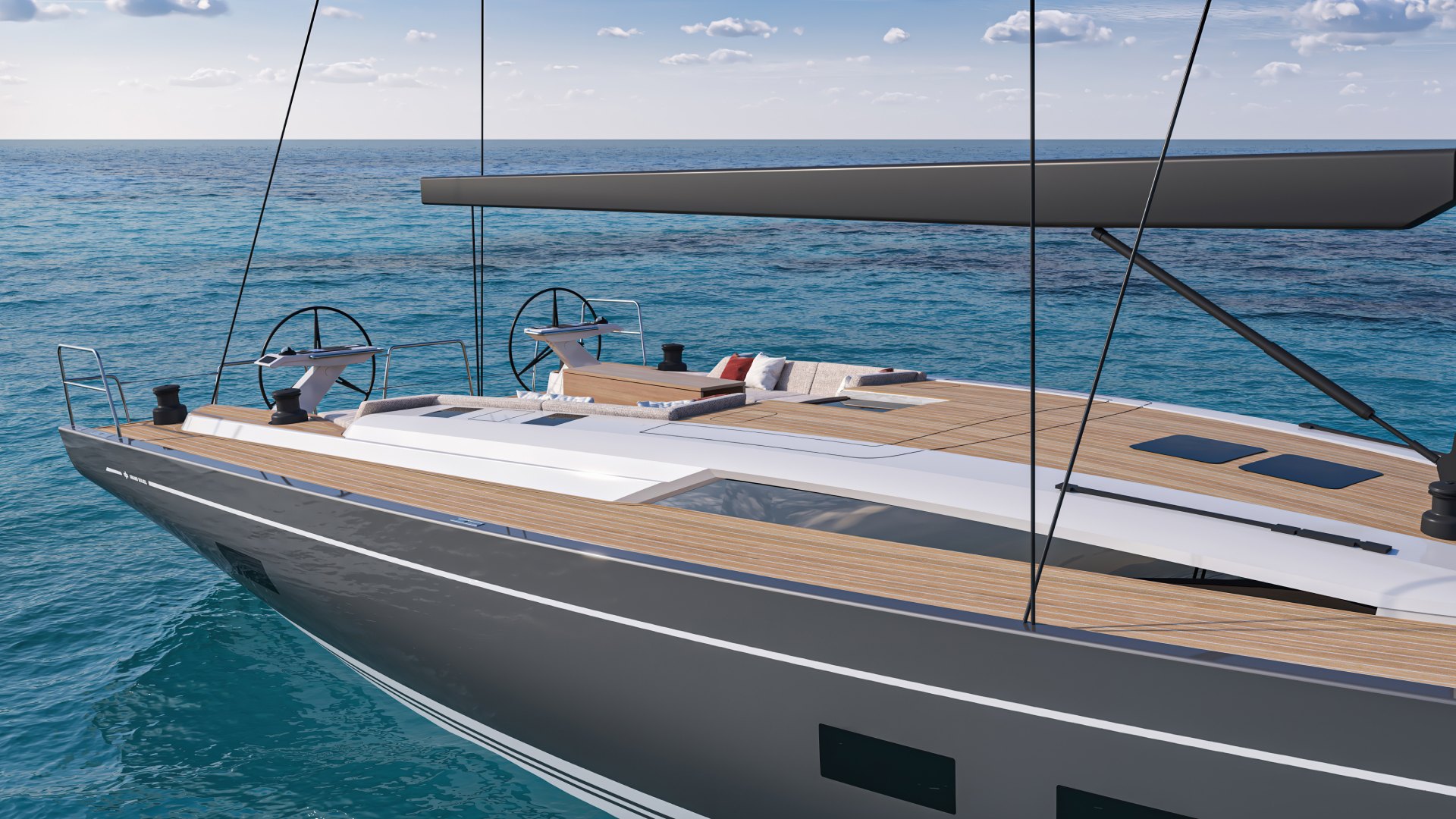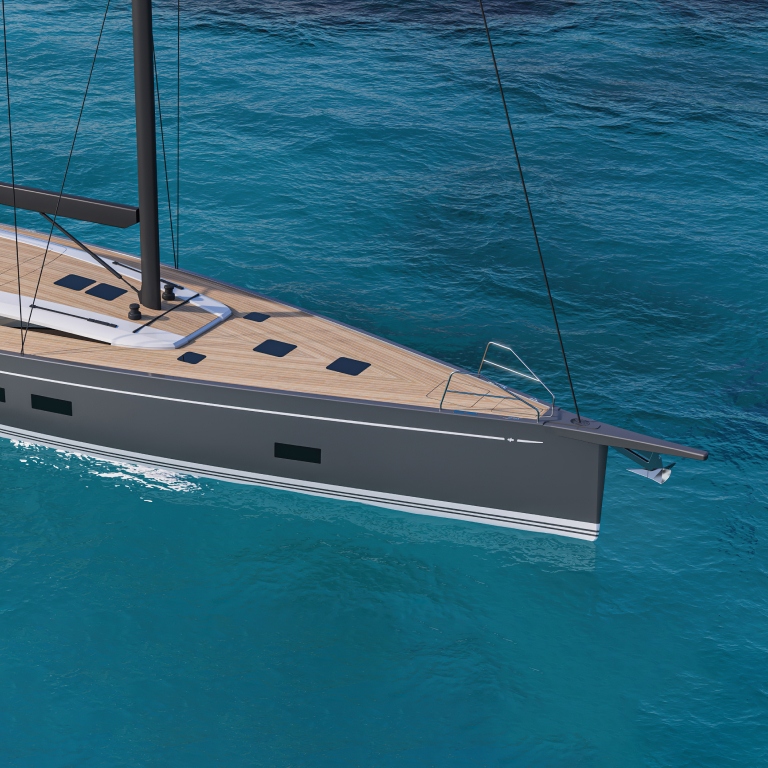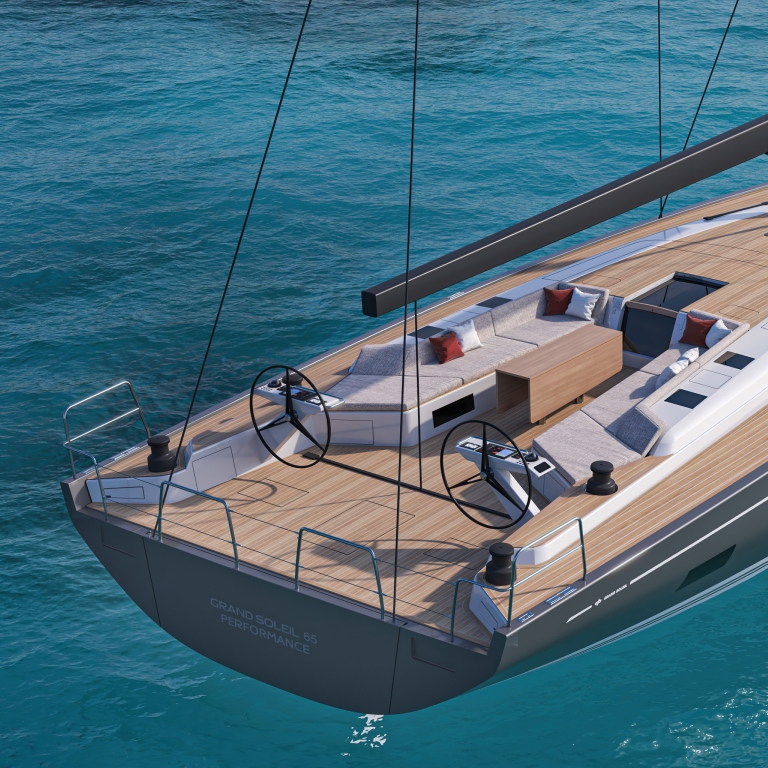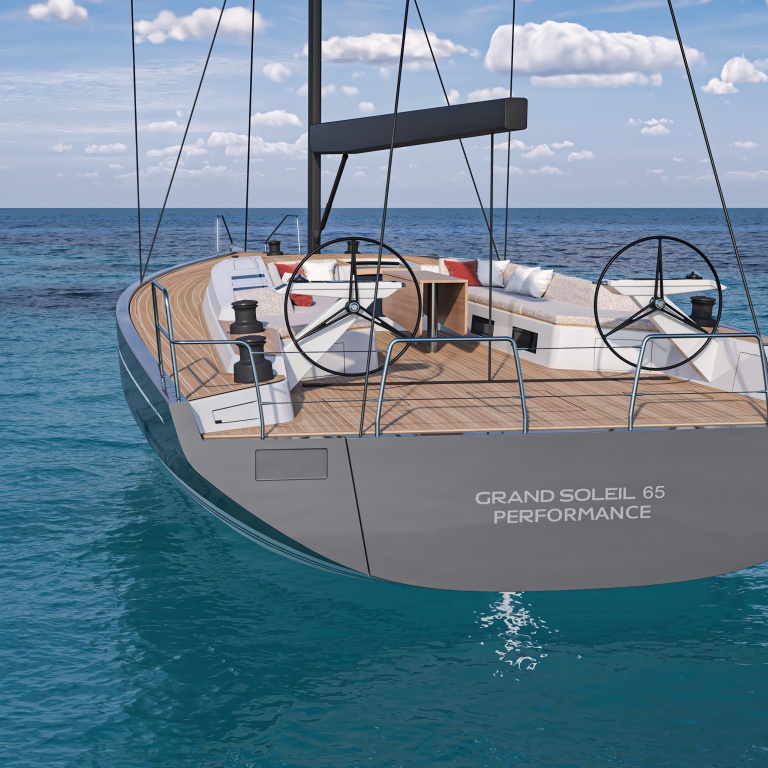 GREEN WAVES
---
Grand Soleil 65, like any other yacht by Cantiere del Pardo, is designed to respect the marine environment in which it sails. The materials and construction methods implied have low environmental impact and a high degree of recyclability: the teak, for example, is sourced from a sustainable supply chain, the glass is laminated for better insulation, the composite lamination uses linen and eco resins, the paints are water-based and solar panels provide renewable green energy.
DECK & INTERIOR DESIGN
Cantiere del Pardo, in collaboration with Nauta Design, conceived and designed the deck and interior layouts with the purpose of making best use of all available space. As a matter of fact, dimensions, ergonomics, stowage, functions and quality of accessories are in line with superyacht standards.
The Grand Soleil 65 Performance differs from the Long Cruise version as it features an aft galley and the engine room located behind the engine.
A MADE-TO-MEASURE
APPROACH
---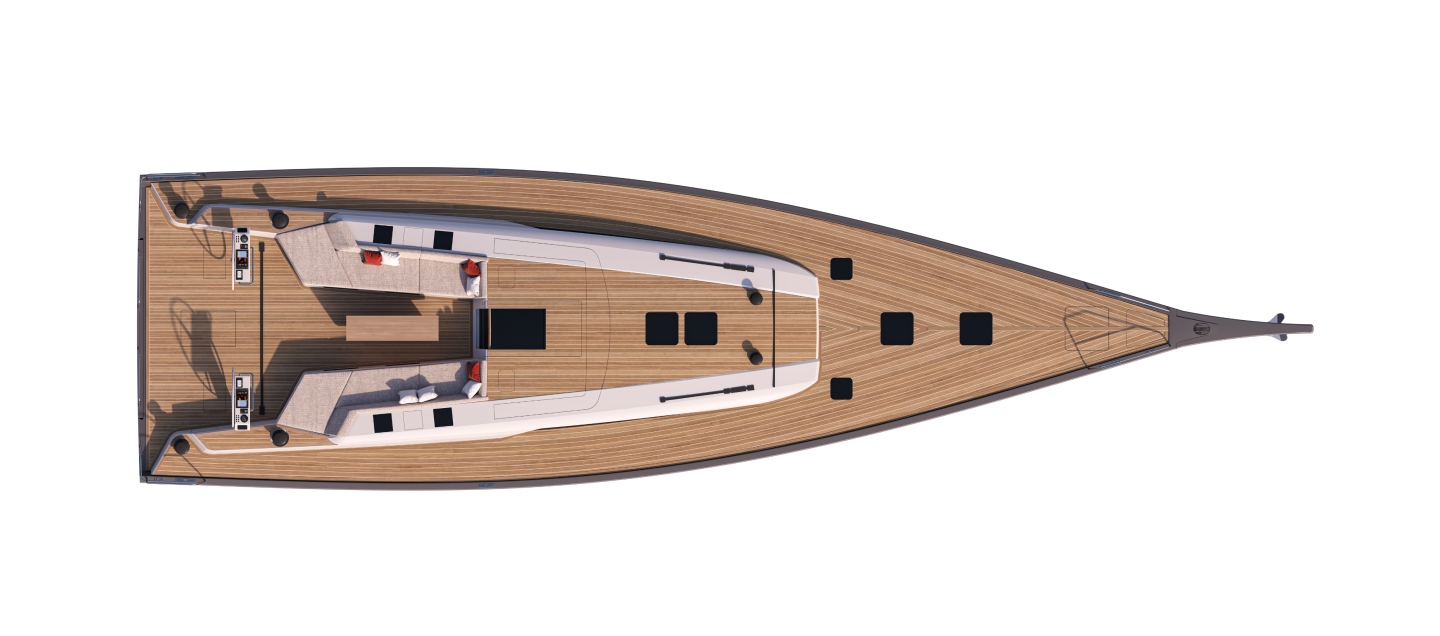 TOP VIEW GS 65 PERFORMANCE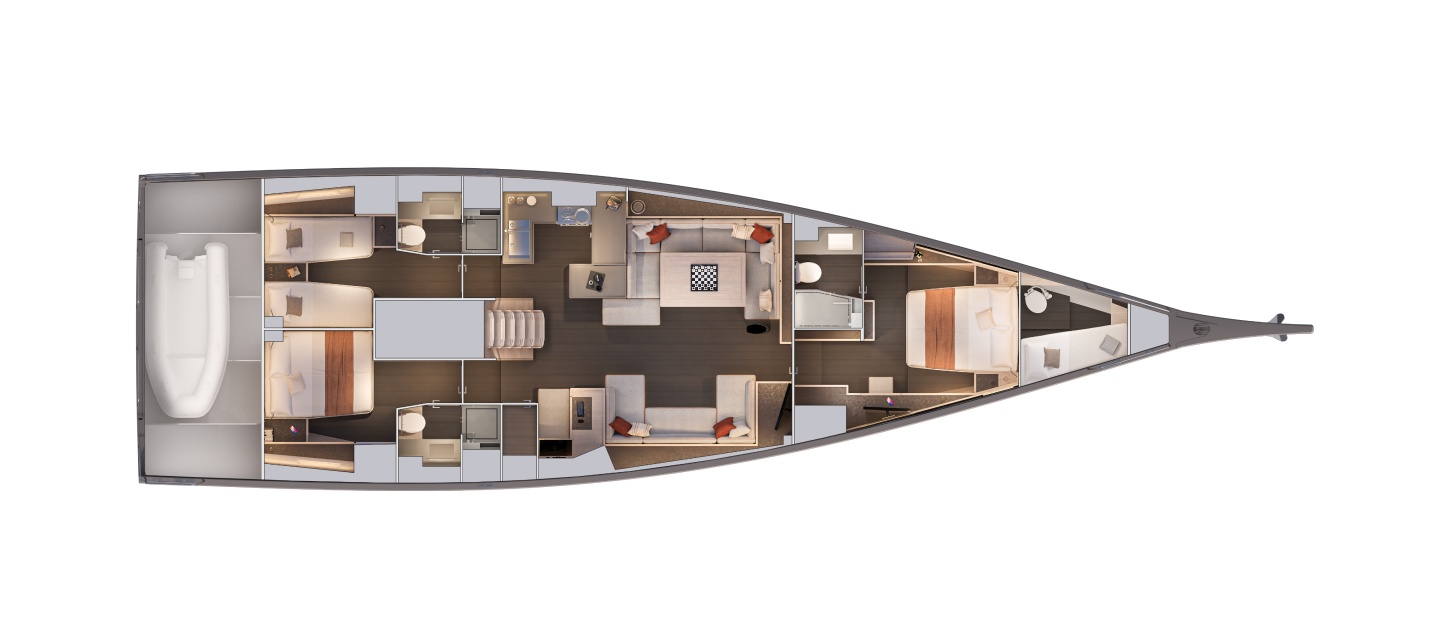 INTERIOR VIEW GS 65 PERFORMANCE
---
TECHNICAL INFO
Overall Length
21,60 m | 70,87 ft
HULL LENGTh
20,10 m | 65,95 ft
Waterline Lenght
18,20 m | 59,72 ft
Max Beam
5,9 m | 19,03 ft
DISPLACEMENT
26 t | 57.320 lbs
Fuel Capacity
900 l | 237,76 us g
Water Capacity
900 l | 237,76 us g
---
About the GS 72
Naval architecture: Matteo Polli
Structures: Marco Lostuzzi
Deck and interior design: Nauta Design
Shipyard: Cantiere del Pardo
CE Category: "A" OCEAN
Cantiere del Pardo S.p.A. all rights reserved. No part of this publication may be republished, systematically reproduced or transmitted in any form or by any means, including photocopying, recording, or by any information storage or retrieval system, without permission in writing from Cantiere del Pardo S.p.a., Forlì, Italy. The product represented is a unit with specific characteristics that may also be significantly different from the product that each customer may order. Consequently, Cantiere del Pardo S.p.A. does not guarantee that the product ordered will correspond to the unit represented here, as each product is characterized by its own particular technical specifications.
DISCOVER THE
GRAND SOLEIL WORLD